Cutlery
The Montrose Collection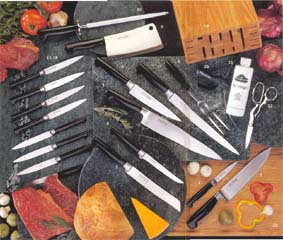 CARICO CUTLERY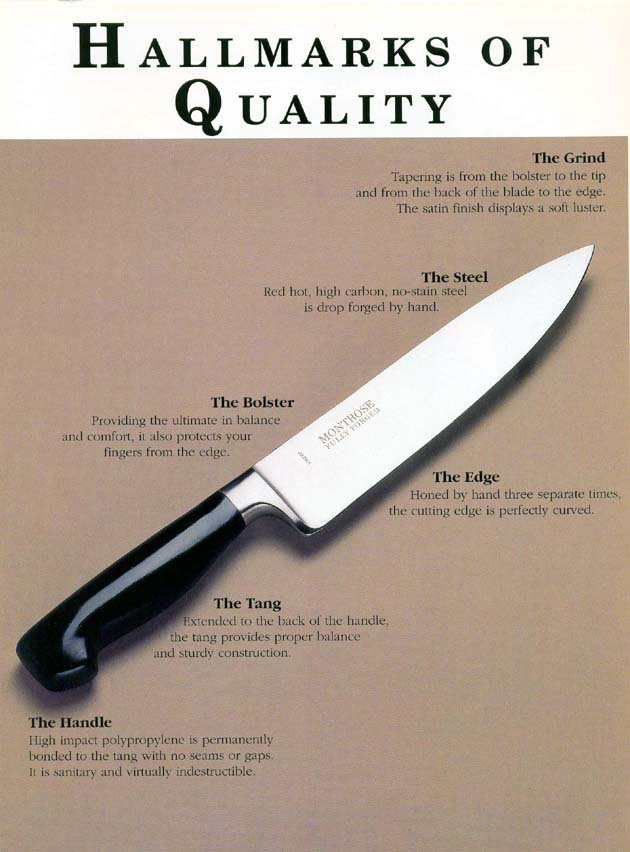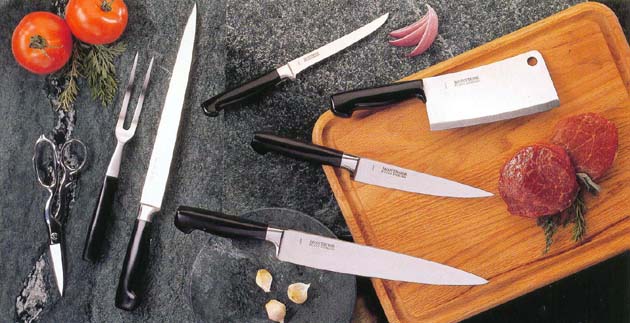 Kitchen Set: Meat fork, carving knife, boning knife, cleaver, meat knife, 10" chef's knife
Service Set: Oak reversible cutting board, kitchen shears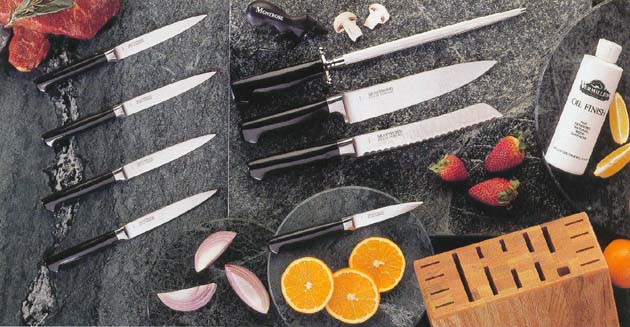 Steak Knife set: 4 Steak knives
Gourmet Set: Paring knife, bread knife, 8" chef knife, sharpening steel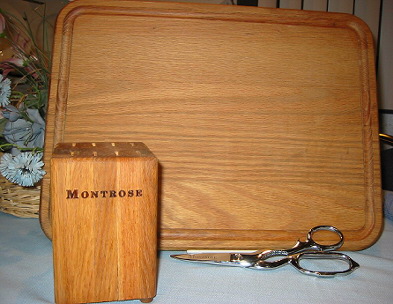 Service Set A: Oak reversible cutting board, kitchen shears, 8 steak knife block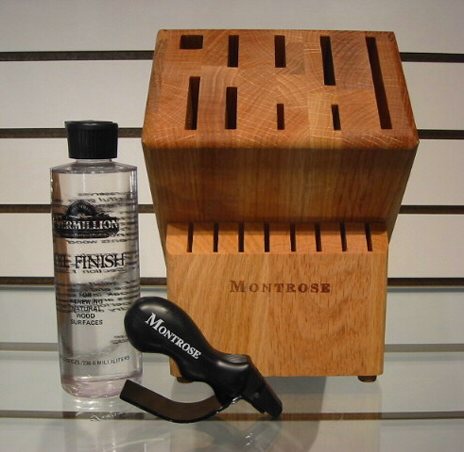 Service Set B: Oak countertop knife block, sharpener, mineral oil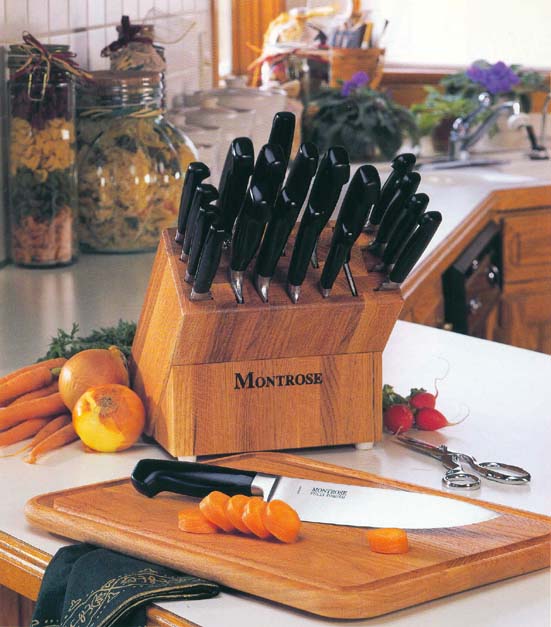 Deluxe 23 piece set: Everything you will ever want in a cutlery set.
Montrose Cutlery: ORDER
With a lifetime guarantee against any defects in workmanship and materials,
the Montrose cutlery is the only set of knives you will ever need.
Fully Forged
The Montrose knife is hot-drop forged by hand, entirely from a single block of high carbon,
no-stain steel, earning the Montrose cutlery the distinction of being Fully Forged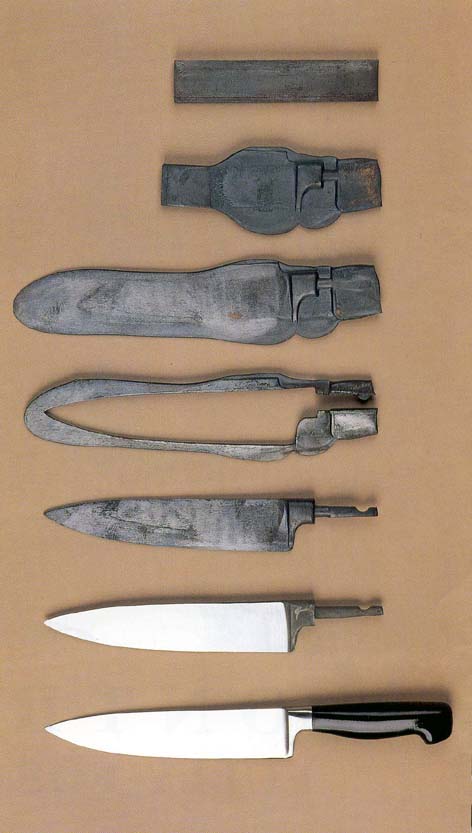 ---
The German Muller Collection
MULLER 5 PC Knife Set with Wood Block
Full Tang, High Quality Stainless Steel, Extra Sharp Blades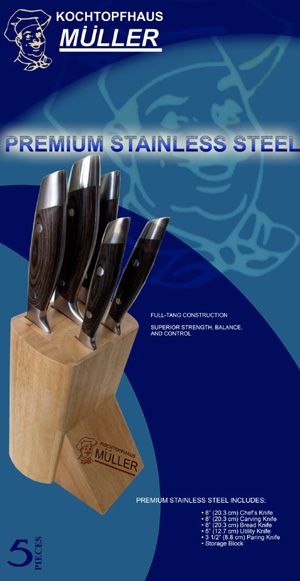 MULLER 14 PC Knife Set with Wood Block
Full Tang, High Quality Stainless Steel, Extra Sharp Blades, PAKKA Wood Handles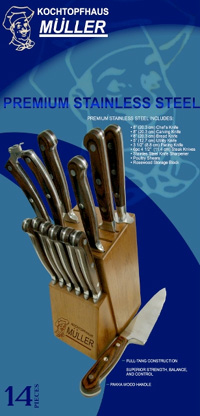 MULLER 24 PC Knife Set with Knife Case
Full Tang, High Quality, Superior to any knives available in stores.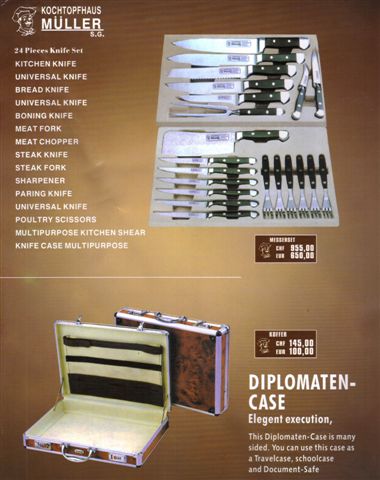 ---


A Cut Above
Hammer Stahl knives are made in the tradition of the great German knife makers with a patented new design and a manufacturing process that allows our knives to be affordable. Hammer Stahl knives are coveted by professional chef's for their razor sharp cutting edge, hand forged quality and quad tang design which make it the more balanced knifes in the world today. The process starts in Solingen, Germany, where 440 high carbon stainless steel is hand forged and ice hardened for maximum strength and durability. The forged steel or blanks are then shipped to our state of the art factory in Asia where the detailed process of applying the pakkawood handles is meticulously done by hand. After grinding the blade to a razor sharp cutting edge, the knife is then polished, inspected and packaged. The finished product is an incredible combination of beauty and functional design.
Reasons why Hammer Stahl is the best
Hammer Stahl is made from the highest quality 440 high carbon stainless steel. It is hand forged and ice hardened for superior edge and lasting durability.
Hammer Stahl has a unique quad tang design that gives the knife perfect weight and balance.
Hammer Stahl Pakkawood handles are infused with phenolic resin which combines the beautiful look of wood with the durability of plastic.
Hammer Stahl handles are ergonomically designed with a comfortable grip, which reduces fatigue.
All Hammer Stahl knives are heirloom quality and guaranteed for life.
The Full Collection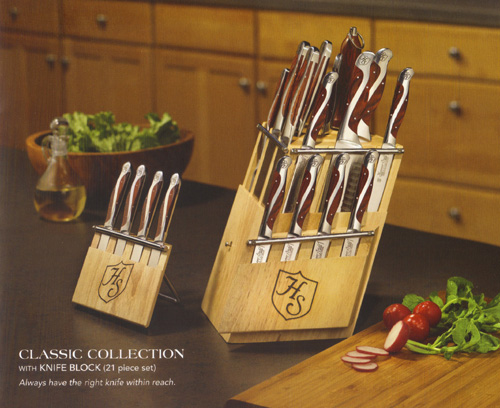 Classic Collection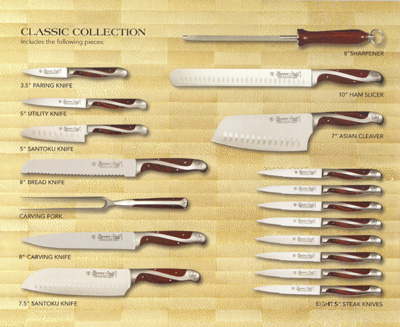 Professional Collection
Gift Sets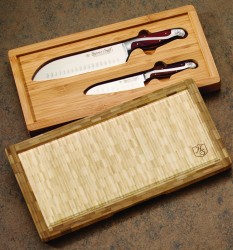 2 PC Bamboo Case Set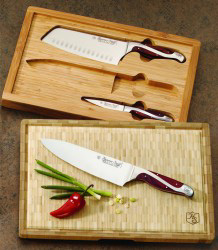 3 PC Bamboo Case Set
Click HERE for the Hammer Stahl warranty

---
BelKraft also carries the Messerstahl cutlery
The Blade - Crafted from French high carbon surgical stainless steel with Titanium is hot drop forged. Each blade is taper ground for maximum strength, sharpness and balance.
The Handle - Gracefully sculptured handles provide the safest and surest grip. This special seamless Polypropylene material is virtually indestructible, and easy to clean. The blade and handle are tested under 1000 pounds of pressure! Slip resistant finish and dishwasher safe.
The Bolster - Protects your fingers and knuckles. It also provides balance for ease and fatigue.
The Edge - hand-honed to give you a professional cutting edge.
Pride of Craftsmanship - Most knives can be assembled in hours. Every Messerstahl knife takes two months to make and requires over fifty hand done operations. A level of quality perfect for BelKraft.

We Accept